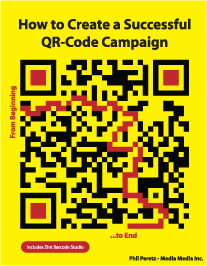 This guide has everything you need to create a successful QR code campaign…and it includes a copy of Zint Barcode Studio (for Windows)
$19.95 – available by immediate digital download
QR Codes can be used to show or direct people to:
Calendar Events (that they can save to their smartphone calendar system)
Websites
Raw Data
Scan and make a phone call
Send a predetermined Text Message
Wi-Fi Access Points
Social Networking Profiles: Twitter, Facebook, MySpace, Google+
Facebook Likes
Twitter Tweets
Digital Business Cards that will be saved to the smartphone users address book.
This guide, written by Phil Peretz, Nationwide Barcode and Media Media Inc. contains QR Code Rules for Success, over 75 cool applications for QR Codes for all industries including musicians, retailers, food service industries, real estate, personal use, manufacturing.
Need some ideas how to make your QR Codes exciting? This list will help.
This book also covers this very important information:
What are the 3 best QR Code Readers for Smartphones?
Facts about QR Codes – who really scans them (Over half the people who scan them have the highest amount of disposable income in the nation)
Designing a QR Code – how you can add artwork and still make them scan.
Website Tips – Static and Mobile sites.
Redirects -How to make a QR Code do different things
Technical Information – Error Correction and Size Decision Factors
Zint Barcode Studio User Manual (Short Version is included in our book) We also have the full version available to free download.
Adding Data to your QR Codes – we have created templates for Business Cards, Calendar Events, Email, Facebook Likes, How to connect to FourSquare, Yelp, Google+, Google Maps,  MySpace, LinkedIn, Automatic Twitter Tweets and others.
You will receive a copy of Zint Barcode studio and you can create as many QR-codes as you need.
Zint Barcode Studio is an easy to use application that supports 50 symbologies including Code 128, Data Matrix, USPS OneCode, EAN-128, UPC/EAN, ITF, QR Code, Code 16k, PDF417, MicroPDF417, LOGMARS, Maxicode, GS1 DataBar, Aztec, Codablock, Composite Symbols and more. In addition to QR Codes, you can create all different types of barcodes in png, eps and svg graphic formats. These three formats work with all graphic programs and Microsoft Word and Excel.
This book, the complete User Guide and Zint Barcode Studio is only $19.95 and is available as an immediate digital download. (Installer for Zint is included – installer requires live internet connection to pull application from SourceForge download site)